Sanat Enstitüsü
Sanat Enstitüsü in Fikirtepe, where volunteer art students have taught and organized activities, is a huge place where three students fit their ideals into 14 square meters …
Sanat Enstitüsü established by Marmara University Art and Craft Teaching Department students in Eğitim District in 2015, is an art atelier of 14 square meters. Aslıhan Mumcu, Aras Yazıcı and Selin Yağmur Sönmez are the founders of this place where lessons are given to children and adults. The 10-square-meters area of Sanat Enstitüsü has been transformed into an alternative art gallery to open exhibitions. We talked with the founders of Sanat Enstitüsü which organizes various workshops with the neighbourhood residents and students.

Would you introduce Sanat Enstitüsü?
Aras Yazıcı: When the atelier was established, we were third-year students of Art and Crafts Teaching Department in Marmara University. Basically, our reason to open here was the need of a space to work. Because we had a workspace problem at school and home. Creating an independent workspace for students is difficult in Istanbul conditions in many respects and financial problems come into play. Another important factor is moral support. In this sense who gave us the greatest support was our teacher H. Avni Öztopçu. Ders Belgeliği's works which can be an example of alternative education maintained by him in University since 1998 was an example for us and we were influenced. And more idealistic goals came along.
Where did the name 'Enstitü' come from?
Aslıhan Mumcu: We named the atelier as "Sanat Enstitüsü" because there has been respect and longing for the educational treatment of Village Institutes. We were aiming a treatment in that way. After opening the atelier, it became an independent, free and alternative school with our interaction of the neighbourhood residents and the students. We resist in this alternative space that we build to be specialized in our own branches. When we look towards our ideals and wishes, we can not see another place where we can do it properly. We all worked in different institutions and experienced this. But here is a free and independent place. We are here while our peers spending time in different ways. Our wish is to be the genuine people of our branches. (Our aim is) To maintain, improve and develop whatever we are doing.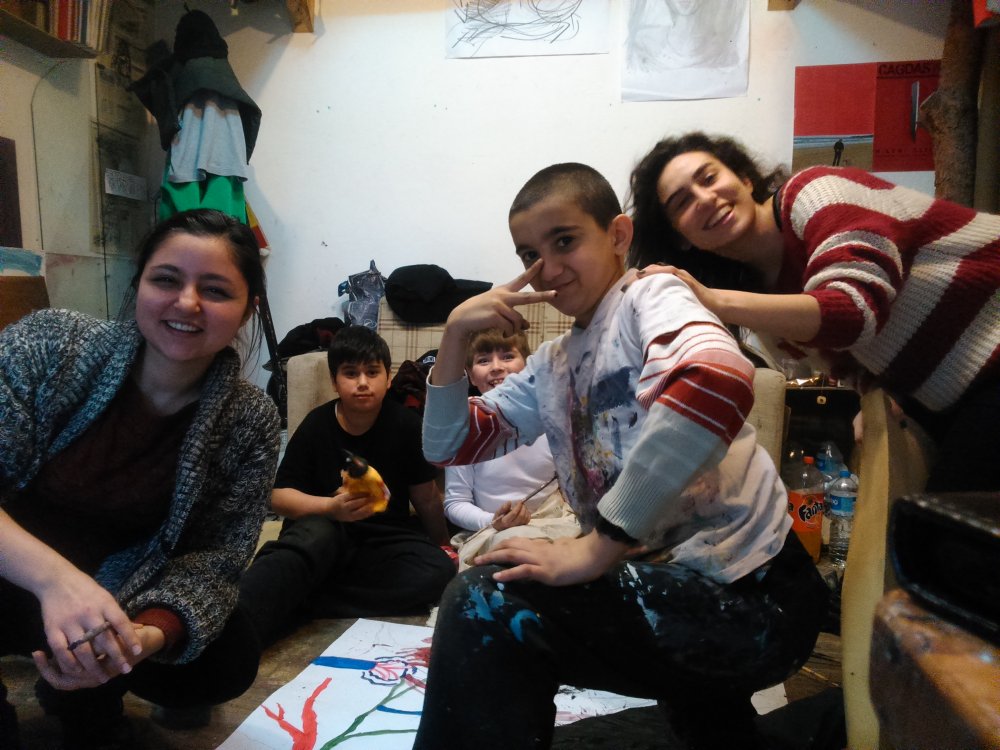 Saving Pocket Money for 'Enstitü'
How do you cover the expenses of the atelier?
Selin Yağmur Sönmez: We have worked as waiter, pollster, animator, interpreter, customer representative, sales consultant, visual art teacher. Also we had a time period that we didn't work. During this time period we tried to cover the expenses of the atelier with our pocket money. Having K.Y.K. loans (a kind of loan that is given to students by government during studying) during the bachelor and postgraduate periods  were also a contribution. We prefer to spend the money that we save for the continuity of the atelier. We don't want to buy new clothes, cosmetics or kill time in cafés. Shortly, we are trying to do whatever we can, to keep this place sustain.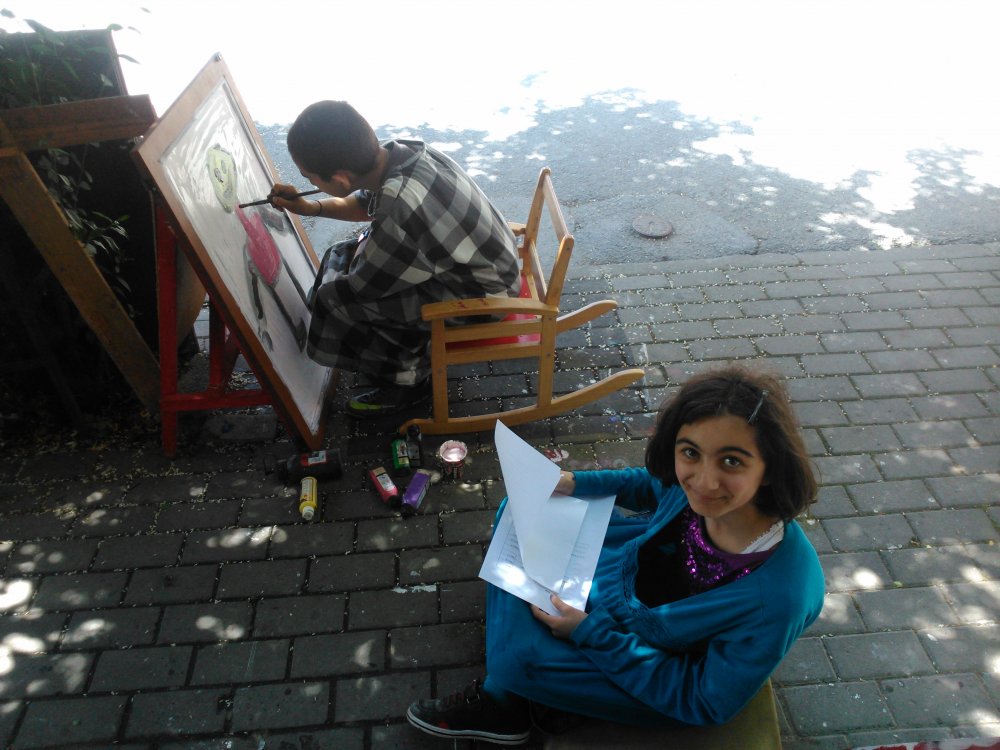 What kind of work did you do until now?
Aras Yazıcı: We have done mostly voluntary works since the establishment of the atelier. First, Three special education students who were living in the neighbourhood discovered the atelier, met us and started to paint at the atelier. Then this togetherness was shaped with different productions. They became students of the atelier. This situation continued with activities such as painting, music, sculpture, reading books, helping school lessons, going to the theater and the museum. We still do a lot of things with them. With their arrival, the other children of the neighbourhood began to come. And we continued to work with children in this way by arranging these works. Apart from these, we continue to do our own personal and collective productions. In 2015, we opened a group exhibition with student works in Don Quixote Occupation House in Yeldeğirmeni neighbourhood and we turned a part of this place into an atelier and gave voluntary drawing lessons for a while. In the same year we did sculpture installations next to the Bull Sculpture and many different points of Kadiköy. In 2016, we started to organize art competitions which have no winners and prizes, the participants are judges and judged in Sanat Enstitüsü. Competitions acquiared an international dimension with the participation of Erasmus students. In the same period we started to give drawing, painting, sculpture, printing, photography, English and computer lessons in the atelier without considering the age limit.
What are you going to do in the upcoming period?
Selin Yağmur Sönmez: In 2017, we started to organize workshops about the subjects that we are qualified and we study on. We aim to share our the theoretical and practical knowledge and to create a collective and critical educational workspace with the participants. During the three years we spent in this atelier, we fit a lot of things into the 14-square-meter place. In 2018, we decided to make suitable the 10 square meter area of the atelier for giving opportunity to exhibit their works to art students who are working in different disciplines. In the upcoming period we will try to maintain and improve our works here. As a result of these developments, we want to create a larger workspace and expand our circle.
The Main Purpose Should'nt Be Money
Do you have any particular reason to choose Eğitim neigbourhood?
Aslıhan Mumcu: It's was coincidence that the name of the neighbourhood is Eğitim. What is important for us was the place that we were planing to rent should'nt have rented from an estate agency but from the owner and supposed to be near Marmara University Göztepe Campus and also it wouldn't be hard to pay for us. We looked a lot for neighbourhoods included Yeldeğirmeni, but the rents of the places we found were too high and it was necessary to pay for estate agents. Because we were a student and we needed to rent from an owner with a well-priced. We were looking for a place to rent for a long time, in our dreams there was an uncle who is old and dear to give us a well-priced place. Then we met with Abdullah Uncle, our dream came true (laughs). After renting, we learned that the name of neighbourhood was Eğitim (Eğitim=Education). However, the name of the neighbourhood and the fact that is located in Fikirtepe which called "Idea Hill" during Ottoman period is extremely identified with what we do in the atelier.
What do you think about the fact that the art ateliers and galleries are gathered in the center of the city? I guess you are trying to change this mentality?
Aras Yazıcı: The fact that the art ateliers and galleries are gathered in the city centers is important for the growth of the circle between the ateliers and sharing. But art ateliers should be accessible for people who don't have access to the city centers and who have financial difficulties. Art shouldn't be something only rich people and people from the elite class can acces, it should be accesible also for other people. Art should catch every people's fancy. It is not that important where the art ateliers and galleries are, it is more important how they are and how much equipped. We think that it should not be a place that work for money which is not sincere or works for different aims. It is necessary to make money but money shouldn't be the main purpose.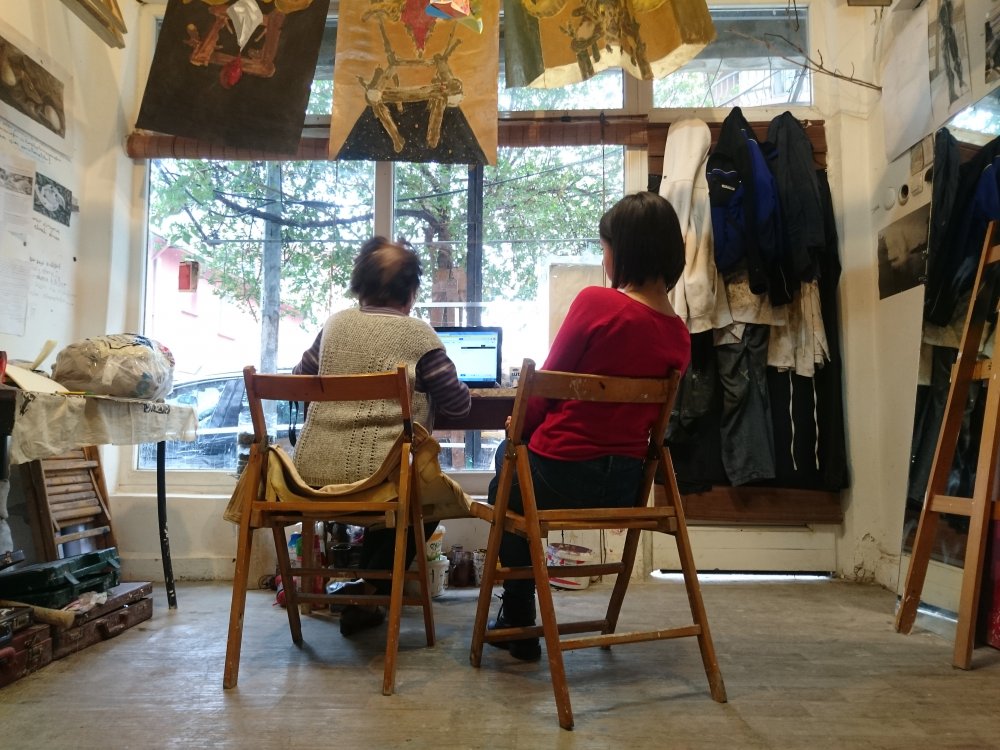 The Neighborhood Residents Welcome Us with Open Arms
How is your relation with the neighbourhood residents? Do you work together?
Aslıhan Mumcu: We are on good terms with the people of the neighbourhood. It is our third year here and the impact was important in many ways. The neighbourhood residents accepted, loved and got used to us. But for them the idea of art atelier was new and interesting. It is very important to overcome this. Even the neighbourhood residents found us strange firstly, after meeting they welcome us with open arms. The shopkeepers in the neighbourhood, the neighbours and a lot of people who recognized here supported us. There were shopkeepers who lent us their chairs at the workshops we organized and neighbours invited us to drink tea, people who donated books to our library or people helped to alterations of the atelier. These have become an important source of motivation for us to maintain here. There were also neighbours who wanted to take lessons from us in the neighbourhood. For example, Ayfer who is 65 years old wanted to take a computer lesson and Yadigar asked to take sculpture lesson to decorate her cakes with a candy dough made by her. And we have not rejected them. While we were sharing our knowledge and skills, we learned a lot from them. It is very important for us to meet different people, to work with them, to produce, to be together and to share. This relationship which is not based on profit with the neighbours taught us that it is possible to be together with every kind of people in all walks of life in spite of all differences.
The Address of Sanat Enstitüsü:
Egitim Mahallesi, Nahit Bey Sokak No:18, 34722 Kadıkoy/İstanbul – TURKEY
Google Maps
www.sanatenstitusu.com
News:
Erhan Demirtaş
Source of News:
Gazete Kadıköy
Cumhuriyet
Translation:
Aras Yazıcı
Correction:
Selin Yağmur Sönmez
Author